Cross posted to
BCcampus News
. Written by Gina Bennett.
Tips from Tech Buddy Gina
This post provides recommendations for creating a good tech buddyship experience and is a follow up to
this article
on the recent FLO Enthusiasts gathering at Thompson Rivers University.
by Gina Bennett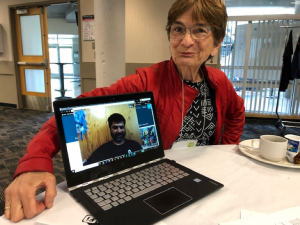 Before the event:
Find out what technology will be used for the event (Skype, Zoom, etc.) and make sure both you and your buddy are not only familiar but comfortable with it. If possible, introduce yourselves and practice a bit beforehand.
It's really handy to have an alternate means of communication if something goes wrong. Share mobile numbers with your buddy ahead of time.
Advise your remote buddy to use a headset with a microphone (you — the event buddy — will probably not be able to use a headset because you'll need to follow what's going on at the event).
Given the current state of technology, it seems a laptop (rather than a cell phone or tablet) still works best for the event buddy. You'll want to make sure your battery is charged AND bring your power cord as well.
Find out if your remote buddy has received any event resources: an agenda, a slide deck, supporting documents, list of attendees, etc.
At the event:
Once you're at the venue, connect to the Wi-Fi and check the connection. You'll need a relatively strong connection to share video. Find out if someone is available to provide tech support on-site.
Sit at the front so your remote buddy gets the best sound reception and an unobstructed view. Have a look around to see where the nearest electrical outlet is (in case you have to charge your battery at some point).
You will need a table or desk to set your laptop on. Holding your laptop on your lap is just not practical and the bouncing around will drive your remote buddy crazy.
Ensure your remote buddy can hear and see what's going on (e.g., the speaker, whiteboard, presentation). If the video feed is really flaky, suggest your remote buddy stop sending their video feed. (By this time, you should already know what they look like.)
It sometimes happens that an event whiteboard or flipchart gets so marked up that your remote buddy can't read it via webcam. Now you will be glad you shared mobile contact info: take a photo with your cell phone and send it that way.
While the speaker is talking, you probably won't be able to talk to your buddy (whispering works poorly over a remote connection, especially if there's background noise). If you and your remote buddy want to chat while the presentation is underway, use the text chat. You really should check every 10 minutes or so to make sure your remote buddy is able to follow along.
It's mainly about presence…
If the event organizer doesn't introduce remote attendees during the event introductions, introduce your remote buddy after you introduce yourself.
The most important tip of all: Don't forget that your remote buddy is there. When the action shifts to another part of the venue, make sure you bring your remote buddy along. If there's a vote on something, get your buddy's vote, too. If small group discussions are part of the event, do what you can to include your buddy in the discussion.
If you have to disappear for a few minutes, let your remote buddy know. If you're going to be gone for a length of time (e.g., maybe you are presenting a session yourself), introduce your buddy to someone who can take over as event buddy while you're gone.
Maybe your remote buddy has their own plans for lunch and coffee breaks, but if not, bring them along or encourage other event attendees to come over and chat with them.
Perks of being an event buddy!
You get to sit at the front, and you get to have a table/desk, even if these resources are scarce.
You have someone with whom you can share side conversations and observations about the presentations, etc.
You have the opportunity to give your videoconferencing software a real workout and gain proficiency in supporting your remote students or clients.
You will get to meet somebody who is willing to push the boundaries of access, and you will feel way more confident about trying remote attendance yourself when the opportunity arises.