Cross posted to BCcampus News.


Our FLO Enthusiasts Tech Buddyship Experience
On June 19
th
, a group of FLO Enthusiasts
gathered together
at Thompson Rivers University to share experiences and plan next steps for the
FLO family of courses
. These face-to-face meetings that bring together a group of facilitators who typically interact in online spaces have become an (almost) annual event.
By Asif Devji, Gina Bennett, and Sylvia Currie
Immediately after sending out the invitation, requests started to roll in from very enthusiastic enthusiasts asking about the possibility of remote participation because they were unable to make the journey to Kamloops.
The final motivation came from Asif:
"I'd be happy to volunteer to help set up/administer some of the tech required — if BCcampus would be willing to share its tech resources for this purpose."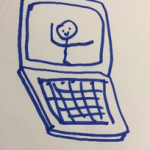 Asif also coined the term "buddyship," which perfectly captures this experience of teaming up to bring a remote participant into an event.
Asif's experience as a remote participant:
Offering to set up the tech that would let me access an event that I otherwise couldn't have attended — an opportunity to exchange with other online learning wonks, no less — was a no-brainer.
As I sent that email to Sylvia, I was thinking in terms of a web conference — which would have obliged the event presenters and activities to cater in some way to that broadcast medium.
When she responded proposing Tech Buddies, things quickly shifted. It was a simpler and less labour-intensive solution. All that was required was a Skype video connection to a buddy at the event with a mobile device that could be used to carry you into the activities. The responsibility for
accessibility
shifted from the event to the individual.
A Google Doc outlining the Tech Buddy process was emailed to all event participants. It included a coordinating table that we could use to input our Skype/contact details and to buddy up. Buddyships were quickly established.
I was lucky enough to be able to buddy up with Gina Bennett, whom I already knew as a facilitator of an online course I had participated in. That pre-existing relationship helped cement the buddyship. We had a quick email exchange to confirm and organize.
On the day of the event, at the time allotted on the schedule — about 10 minutes prior to the start — Gina Skyped me and we established an issue-free video connection. The participants were finishing up breakfast as Gina toured me around the room and introduced me to people around her. This really helped me feel that I was "there" and part of the group.
Once the event began, my buddy ensured I had a good view of the presenters and their presentations on the big screen. She checked in to make sure I could hear what was going on. When questions were asked and answered, she pivoted her camera to capture the back and forth between participants and presenters. I felt well taken care of.
My video and audio feeds were always live on her end, and I could mute either on my end when I chose. This allowed me to jump into discussions freely. The experience was very different from watching a webinar presentation — I felt more like a participant actually at the event rather than an individual audience member watching from home.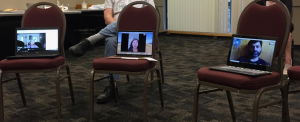 Things got more interesting when it came time to participate in the
Liberating Structures
activities, which called for time-limited interactions with multiple participants. While some were simple to tweak for remote participation — for example, creating a drawing on my end, then holding it up to my camera to show the group as part of the visual interviewing activity — others required more accommodation from the event participants.
For impromptu networking, in which participants filtered around the room and spoke to three different people for three minutes each, I was placed on a table in the hallway — as the background noise of all the conversations made it difficult for both sides to hear — and my event buddy had to recruit people to come out and talk to me.
For the crowdsourcing activity, which involved writing ideas on recipe cards and then shuffling those cards through multiple people, my event buddy had to create my cards by copying text that I typed into the chat — while also completing her own cards, and so effectively doing two jobs in the limited time allotted — and then one of the presenters had to play my part in shuffling my cards through the group.
The event presenters and participants were constantly thinking on their feet to make sure that we three remote participants were included and accommodated. There were a couple of surreal moments — such as having a screen-to-screen conversation with another remote participant (while our two tech buddies held their devices up to one another) — and hearing from event participants about the weirdness of my disembodied head moving around the room like some kind of robot.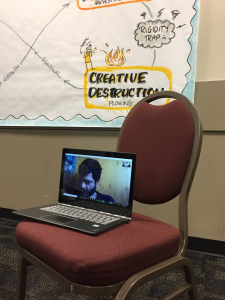 As the day wore on, my event buddy's device started to run low, and I was given a bit of a side perspective on things as she placed it close to a wall to plug in and recharge. In the end, the Tech Buddy experience was a complete success. I spent a full five hours (plus a one-hour break for lunch) actively participating in a remote event — something that would have certainly been more difficult in a webinar environment.
Stay tuned for the second part of this blog post: Tips from Tech Buddy Gina!