Cross posted to
BCcampus News
.
Meet FLO Facilitator: Andy Sellwood
Over the years, individuals from institutions and organizations across British Columbia have taken
Facilitating Learning Online (FLO)
to the next level by participating in the
Facilitator Development course
and then co-facilitating one or more of the FLO courses. This group has come to be known as the
FLO Enthusiasts
. If you are thinking about offering FLO courses to your faculty and staff, these are the people who can help!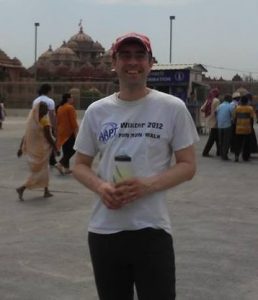 What got you started on this path to becoming a FLO facilitator and mentor?
My interest in online learning began when I became an instructional associate in the Centre for Teaching, Learning, and Research (CTLR) at Vancouver Community College in 2017. In this new role, I immediately found myself helping faculty with the development of blended and fully online courses. It made sense for me to increase my skills and background in online learning, so I registered for the
FLO Design course
. My experience in this course was incredibly positive, and I was able to relate the principles and concepts of good online course design to my colleagues at VCC right away. Later, in 2018, I took the
FLO Facilitator Development (FDO) course
, where I learned how to facilitate FLO courses. Following this, in the fall of 2018, I was invited to co-facilitate the
FLO Fundamentals course
.
What experience and expertise do you bring to this new support role of helping others to adopt and/or facilitate FLO courses?
Prior to joining CTLR, I was a physics instructor at VCC, teaching both upgrading and university transfer courses for over thirteen years. During this time, I focused on how to make my classes as engaging as possible using demonstrations and activities to get my students excited about physics. I bring much of the same attitude to the design of online learning; I consider what experiences students will need to feel engaged with what they are learning.
In my role as an instructional associate, I work with a number of departments, leading them through curriculum development and the renewal of their programs. Many departments at VCC want to move their courses to an online or blended delivery mode, and I have facilitated several workshops to help faculty consider what is needed to create a good online experience for students. I have also worked one-on-one with departments such as our American Sign Language department to develop online courses. This year, I also developed an online course to help VCC employees prepare to sit on tribunal committees.
I love to learn and attend as many conferences as I can. I am a member of the steering committee for ETUG, which enables me to connect with colleagues from other institutions. I feel lucky to be part of such a wonderful educational community!
How can people contact you?